この記事は日本語でも読めます。メニューにある Switch to JP ボタンを押してください。
This article is also available in Japanese. Please hit the Switch to JP button in the menu.
It's been a while for me to write in English on TLW. Plus, even in Japanese, the update schedule has been quite whimsical, just as the web magazine's name implies.
In addition to my work and personal stuff that have been irregularly hectic, I've been "taking in" a lot rather than "processing" and "releasing" lately, particularly spending time reading. Since my childhood, books have always been by my side, in my purse, etc., but the year 2020 made me more engaged with books. (Does that sound familiar to you?) Whenever I have time or I need a break from the internet, I read – probably about a couple of hours a day. There's constant absorption, which is not necessarily always being fully digested and let go, but just accumulated inside me.
So today, for easy-to-break-down content, I would like to share the running list of my favorite independent bookstores/used booksellers in my city, NYC.

Getting a book is such a captivating experience for me, and therefore, I like to indulge in the process of meeting with a new book through searching, researching, considering, asking, etc.
The relationships that are built and tied between bookstores and myself, through these actions and experiences, become quite intimate over time.
I parted with my Amazon Prime membership (which feels great) and I rarely use chain bookstores. It is a privilege to live in a city where a lot of local, small booksellers survive and thrive, so I'd like to make the most out of it, and relish the time I am surrounded by books and the people who love and take care of books.
A lot of bookstores that I support are small scale, which have limited but curated book selections. That means that their offerings tend to be more peculiar and personal, and that's where customers like myself can understand the identities of the stores. When I have a particular book in mind, I know which place would have it, and when I have a topic in mind but am not sure which book to read, I know which bookstore could make recommendations for me.
On the other hand, as there are a plethora of agendas, propaganda, ideologies, and movements emerging here and there simultaneously, I want to keep myself away from certain books (that I believe are detrimental). As much as I understand that it's essential to have a broader view and listen to different opinions and opposing arguments, there are things that are explicitly crossing the line that I just can't handle. I need safe book spaces where I won't accidentally end up reading those detrimental books, and where I honestly don't even have to encounter them.
I believe I have established my list of those safe spaces in NYC that are tried and trusted, and I wholeheartedly want to support them. So I would like to take you on a tour of my favorite independent bookstores in NYC, virtually, remotely, whatever it's called. Hope you enjoy it.
The list divides into three boroughs: Manhattan, Brooklyn, and Queens, where I actually visit on a regular basis. Stores appear in each list in no particular order.
Used booksellers appearing on the list may also have a selection of new books, and vice versa.
Manhattan

Bluestockings Cooperative
Located on the Lower East Side, this cooperative bookstore is worker owned. Their operation and curation reflect the members' identities, which focus on gender, sexuality, and social movements.

https://bluestockings.com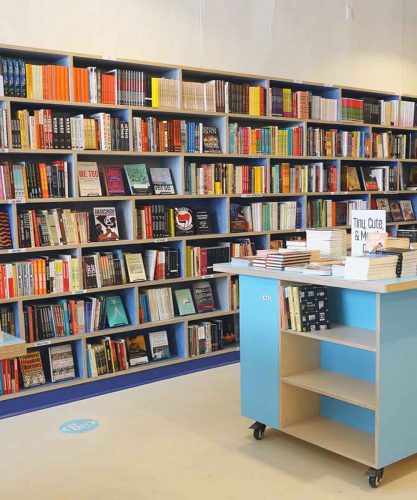 Mercer Street Books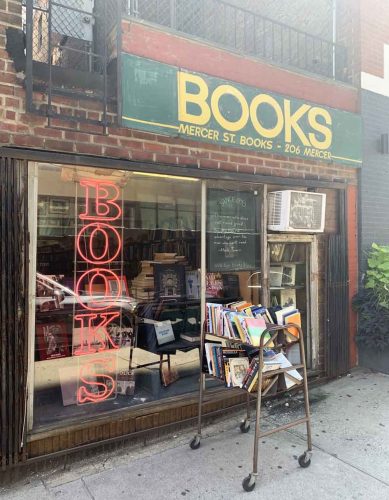 Near NYU, Mercer Street Books has more than thirty years of history as a used bookseller in Greenwich Village. This place has a lot of reading materials related to music and theater arts, and they also sell used vinyl.

http://www.mercerstreetbooks.com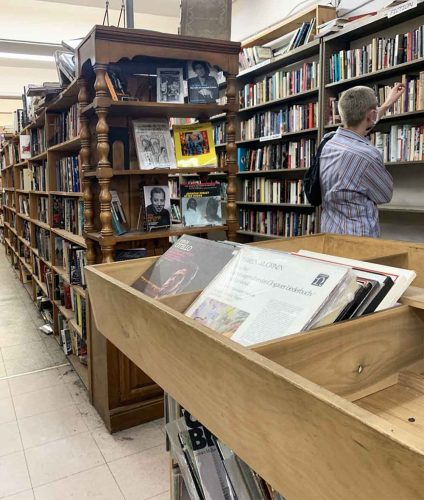 Codex Books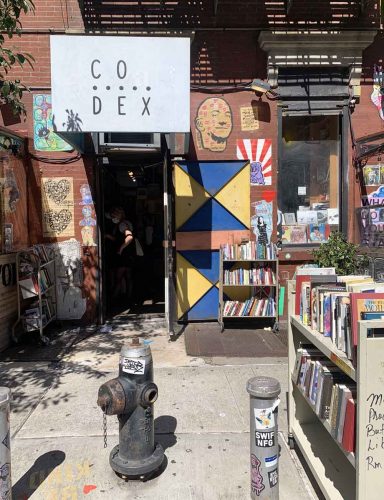 This small gem in Noho is packed with great used books, including some rare finds such as first editions and out-of-print materials. Don't miss the caricature of the bookseller-killing billionaire's face on the facade.

https://codex-books-llc.square.site/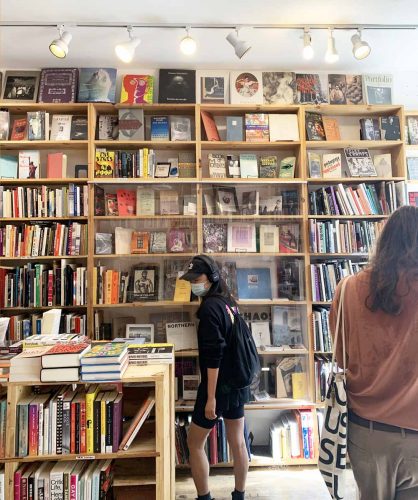 Unoppressive Non-Imperialist Bargain Books
The name tells everything about the rich curation of this bookstore. They have been serving the communities of West Village and the city for over thirty years.

http://unoppressivebooks.blogspot.com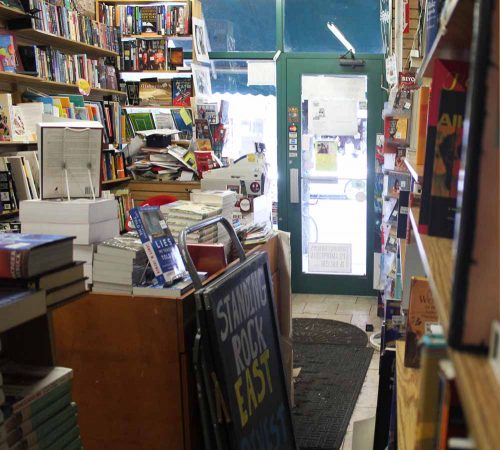 Three Lives & Co.
This is such a legendary and romantic presence on a corner in the West Village. Too beautiful just for Instagram.

http://threelives.com

Left Bank Books
According to my graphic designer friend, Left Bank's art and fashion book collection is full of inspirations. They also have awe-inspiring rare vintage books.

https://www.leftbankbooksny.com

McNally Jackson
Probably being the biggest business among my list, McNally Jackson has two locations in Manhattan (Nolita and Seaport) and two in Brooklyn (Williamsburg and Downtown Brooklyn). A perfect place when you want to be exposed to a variety of genres. They also have a self-publishing service.

https://www.mcnallyjackson.com

The Corner Bookstore
A couple of blocks north of the Guggenheim museum, this store has been an iconic neighborhood bookstore in the Upper East Side, circa 1978.

https://cornerbookstorenyc.com

Housing Works Bookstore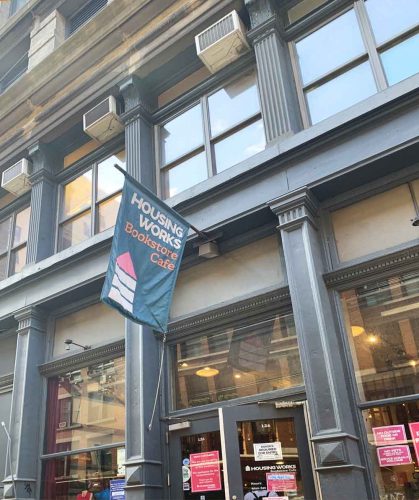 Housing Works is a non-profit organization dedicated to fighting HIV and homelessness. They have multiple charity store locations across NYC, and the one in Soho specializes in books, music media, and DVDs/Blurays. All of the stores are donation based, and 100% of the profit goes to the Housing Works organization.

https://www.housingworks.org/locations/bookstore-cafe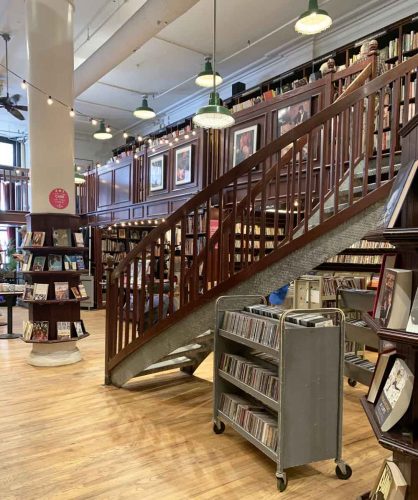 Brooklyn

Cafe con Libros
Owned and operated by a Black/Latinx woman, Cafe con Libros, as the name suggests, is a bookstore cafe in Crown Heights. The store's core concept, intersectional feminism, is reflected by their curation in order to help their customers develop an understanding of the concept.

https://www.cafeconlibrosbk.com

Books Are Magic
This Carrol Gardens bookstore has fun vibes and brings joy to their visitors, which is literally magical. Store staff organize the books by theme and leave thoughtful comments so customers can feel engaged. A great place not only for adult and kid readers, but also cooking lovers.

https://booksaremagic.net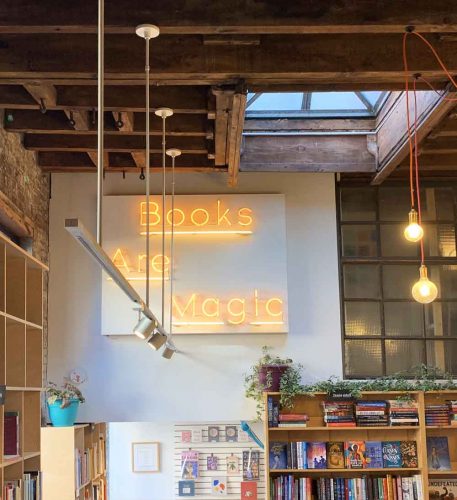 Word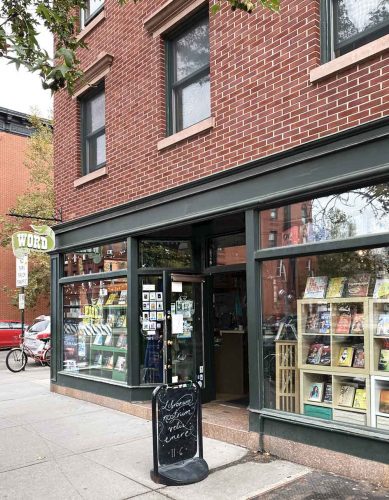 This is "our" neighborhood bookstore, a couple of blocks from where we live. The space is small but we always find something interesting, and that gives us the joy of having a great bookstore match in Greenpoint. They have another location in Jersey City.

https://www.wordbookstores.com

Book Thug Nation
Book Thug Nations is a small used bookseller in Williamsburg that has a wide collection of novels and poetry, in English and others. I once found Japanese language books on their outside rack. It is such a unique sort of entertainment specific to neighborhood used booksellers, where you might wonder who ended up bringing such books to that store in the first place.

(No website)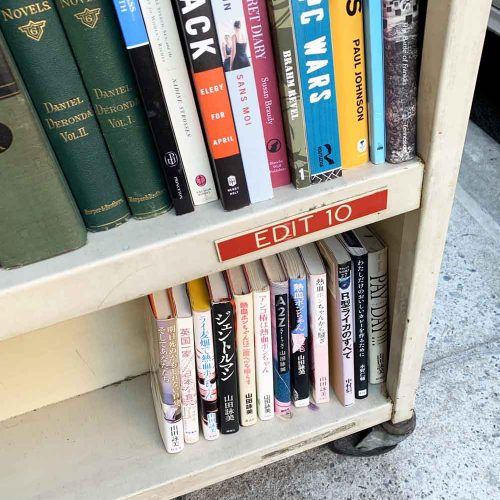 Spoonbill & Sugartown Books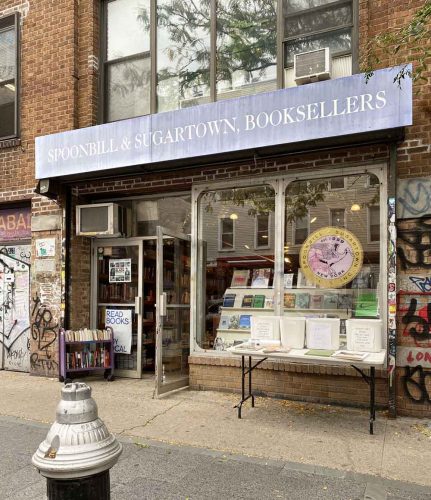 On Bedford Avenue in Williamsburg, where you will encounter chain and franchise businesses, this uniquely-named used bookseller has been there for more than twenty years.

https://www.spoonbillbooks.com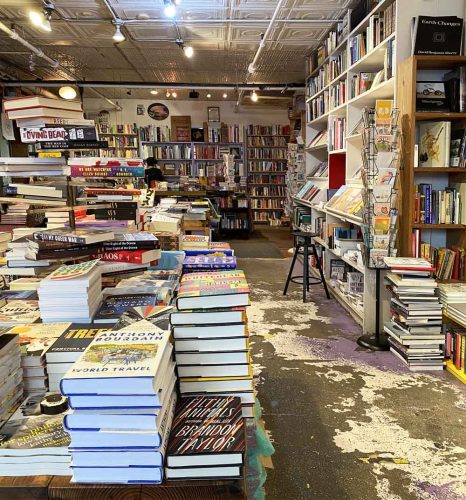 Black Spring Books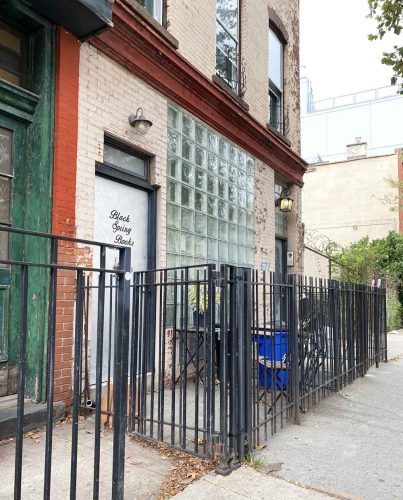 This compact used bookseller opened in the spring of 2020 in Williamsburg. It's actually located next to Henry Miller's childhood home (!) … and that's probably why the store is named after the writer's work, "Black Spring."

https://www.blackspringbookstore.com

Human Relations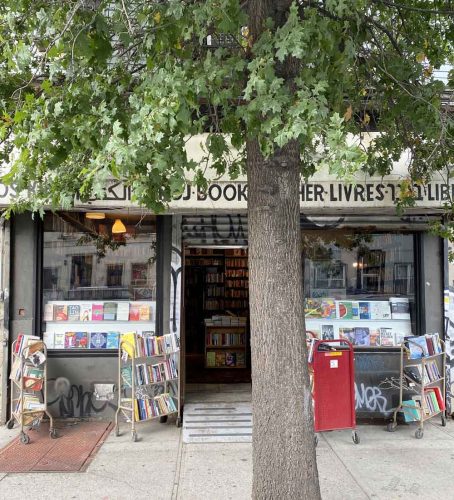 Human Relations in Bushwick is a small, old-fashioned used bookseller. A great collection of poetry and classics.

http://www.humanrelationsbooks.com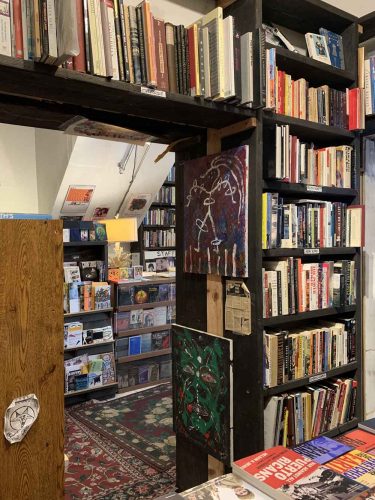 Unnameable Books
On every visit, I always find people (presumably neighbors) bringing in and selling their books. This store creates a healthy circulation of books among the people of Prospect Heights, and I wish I lived closer and were part of it!

https://unnameablebooks.square.site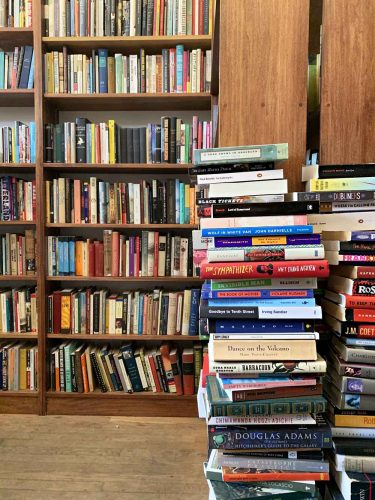 Greenlight Bookstore
Having two spacious stores in Fort Green and Prospect Lefferts Gardens, Greenlight Bookstore has a variety of books. A great place for families.

https://www.greenlightbookstore.com

Molasses Books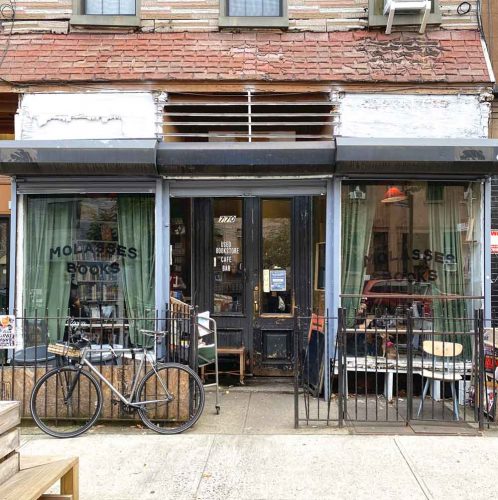 As you enter this coffee shop that sells used books, the rich aroma of espresso welcomes you. They also print and publish, in the same neighborhood of Bushwick.

https://www.molassesbooks.org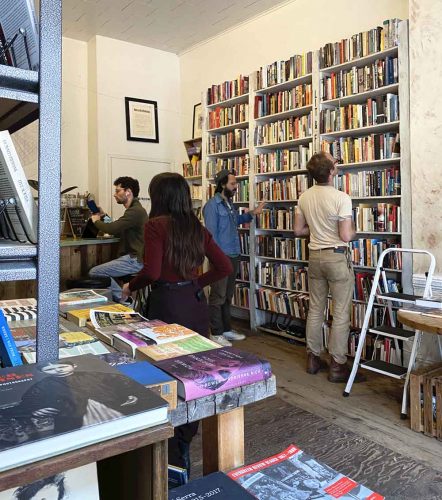 Community Bookstore
Nothing is more convincing than the strong message towards Amazon by this long-beloved store in Park Slope founded in 1971. Inside the store is a huge shelf of pick-up orders by neighbors – clearly, the community agrees with and supports them.

https://www.communitybookstore.net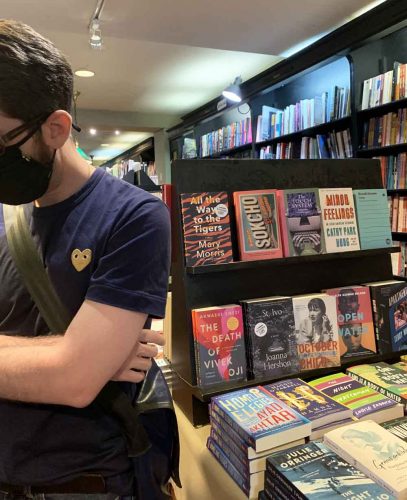 Powerhouse Arena
I personally like Powerhouse's art and photography book selection. The Dumbo location sells prints of my favorite cartoonist, Adrian Tomine. They have two more locations in Brooklyn: Park Slope and Industry City.

https://www.powerhousebookstores.com

Big Reuse
Big Reuse is an environment-focused organization that runs a huge resale store in Carroll Gardens. Along with furniture and home goods, their book selection is magnificent. Unlike usual thrift stores, they are organized by theme such as climate change, racial justice, feminism, gender/sexual studies, etc. What a joy to find abundant progressive books in a thrift store!

https://www.bigreuse.org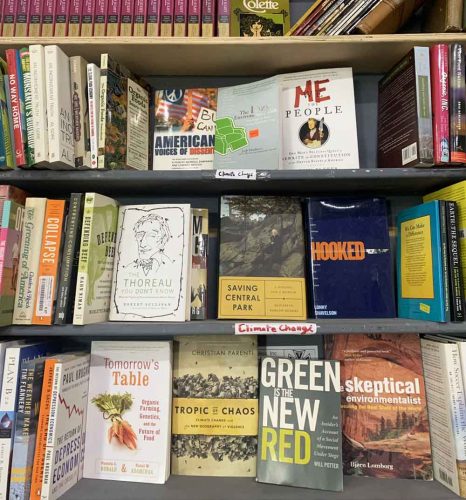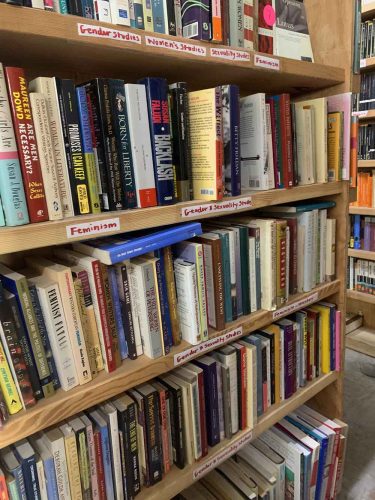 Desert Island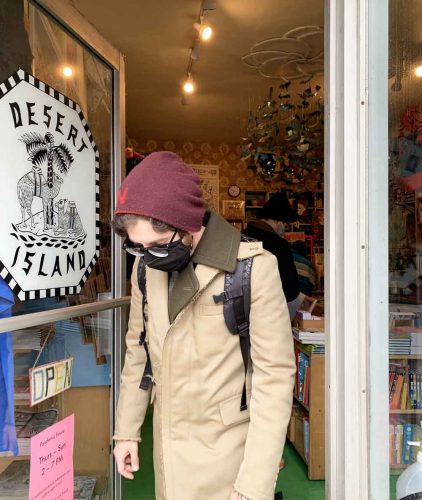 This store in East Williamsburg specializes in graphic novels. From famous titles to independent publishing to translated works of Asian artists… this is a paradise for graphic novel fans.

https://www.desertislandbrooklyn.com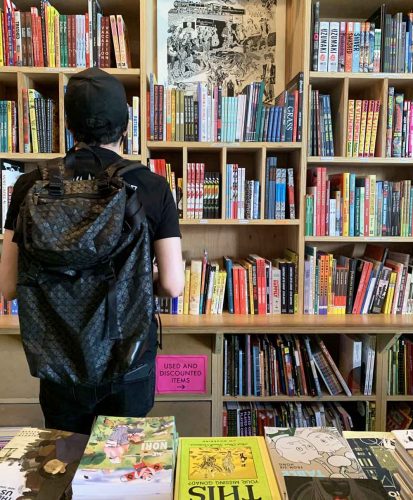 Queens

Topos Bookstore
A bit north of Bushwick, Topos is located in the heart of Ridgewood. Their store is small but packed, and there is also a cafe space. I find a lot of books that I like on their used book shelves, so I guess I should visit more often.

https://www.toposbookstore.com

Book Culture
After the establishment of two locations in Upper Manhattan, Book Culture opened their third store in Long Island City, where people don't have enough bookstores. It's spacious and their display grabs customer's attention and engagement.

https://www.bookculture.com

Astoria Bookshop
This store has a place in my heart… my partner and I used to live in Astoria when I just moved to New York in 2013. They opened just around the same time, and have been serving the people in Astoria ever since.

https://www.astoriabookshop.com

Additional Notes
I prefer reading on paper over reading on a screen. Whether print or digital, however, I am aware that reading has its own environmental impact, and on top of that, I don't have to own everything that I want to read.
That being said, while supporting independent bookstores, I also practice other methods to enjoy reading.
Library
First, I use the Brooklyn Public Library. (Look at my library card!)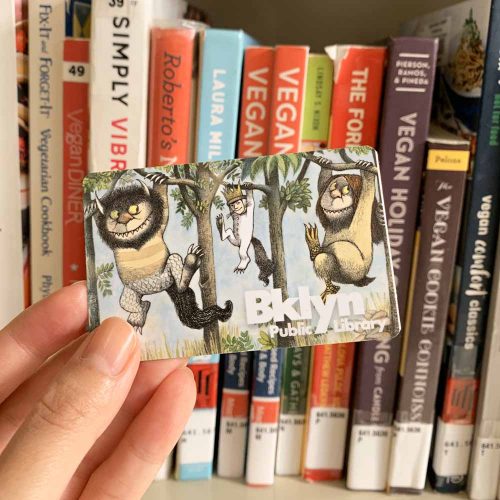 As someone from Japan, I was astonished when I got to know that a majority of American public library systems has late fines, which is unheard of in Japan. However, I was delighted to hear the recent announcements made by NYPL (Manhattan, the Bronx, and Staten Island), BPL (Brooklyn) and QPL (Queens) that they all decided to eliminate the fines.
According to the NYPL's statement, "Removing this antiquated barrier to access allows libraries to better fulfill their mission: making knowledge and opportunity free and accessible to all." In fact, examined by the libraries of all boroughs, their record shows that people with lower income, who are not able to afford to buy books, tend to be on the libraries' late fine or blocked list. This makes it even more difficult for those people to read. Monetary punishments don't fix the systematic inequality and I'm all for their new policy.
Local Community Circularity
I also like to be part of the local community's circularity. New Yorkers might be notorious for being busy, sassy, snobbish, or individualistic, but we actually share things in such a casual manner – in our apartment complex, on the street, etc. A great example of that is "stooping," which you can see on Stooping NYC's Instagram.
Specializing in books, you might have seen a Little Free Library in your neighborhood. We have a couple in our area too. People in the neighborhood come together and create their own library, and I love that.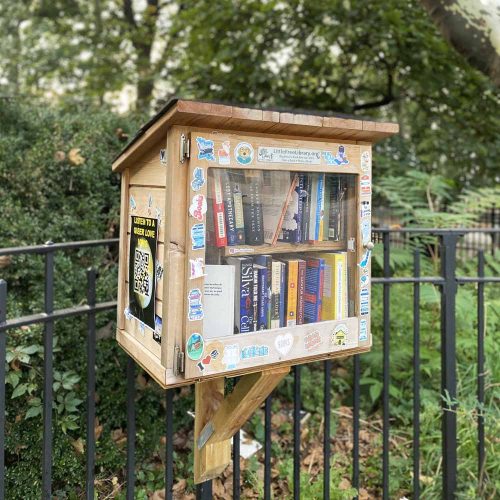 Oh, and our neighborhood coffee shop organizes fund rasing for a local mutual aid a couple of times a year, by collecting books from local individuals and selling them on site. My partner and I bring in some books from our bookshelf (and we come home with some new books.)

This is how I avail myself of books, focusing on supporting local, small, independent bookstores, as well as utilizing public library and participating a local community's circularity.
I hope you enjoy my virtual NYC bookstore tour!
I'm actually planning to develop more book/reading related content on TLW and my Instagram.
If you have any ideas, suggestions, requests, or anything, please let me know.
この記事は日本語でも読めます。メニューにある Switch to JP ボタンを押してください。
This article is also available in Japanese. Please hit the Switch to JP button in the menu.